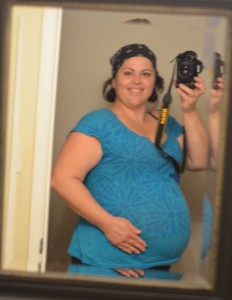 Several months ago, my estimated due date came and went. Two weeks passed and we were close to having to schedule a medical induction because there are rules regarding how far past an estimated due date a midwife can attend a home birth in AZ. My midwife encouraged me to get this baby moving!
But, what really works to stimulate labor naturally? I'd never had a late baby before. My other kids were early! We were so far past the date that herbal methods like black and blue cohosh didn't seem to be an appropriate choice. I googled "natural induction" and got responses that ranged from typical "baby comes when ready" to "eat pizza and pineapple".
To be honest, I tried nearly everything except Castor Oil. The idea behind castor oil is that it cleans out a woman's bowels, which are wrapped around her uterus. The movement is supposed to stimulate the uterus to contract. it has worked for everyone I've talked to who's tried it. My sister used it successfully and so did several of my friends. But, I was grossed out by the thought and was afraid of being "sick" in labor. However, if what we used hadn't worked, I would have tried it before resorting to a medical option.
The options below are from my own experience and I do NOT encourage trying to induce labor earlier than full term (40 weeks!). Babies really do have their own schedule and sometimes they need to go full term even if we feel ready. Always do your own homework and consult with your caregiver before trying any kind of induction methods, 'kay? Just common sense here, people.
Here are my practical suggestions.
1. FOCUS on the task at hand. Having a baby requires focus and concentration.
2.  SEND the kids to Grandma's (or your sister's or your best friend…you get the point) if you have any. This goes with number one. Focus on the task. To do that – you might need your other peeps to give you a break. They can always come back when labor is progressing if you want them to attend the birth.
3. TALK to your baby. I'm not kidding. Find a quiet place. Tell  your baby you love him or her and are ready to meet them. Say it lovingly. Say it firmly. Say it with confidence and believe it. Say it out loud. You are the parent. Don't be surprised when it works. Talking my kids into coming has sent me into labor all 3 times.
4. MOVE. As in walk. A LOT. I went Several MILES the day I went into labor. You can imagine how amazing that looked. I was Gi-gantic!
5. CONNECT with your partner. You made this beautiful life together. Be sure you're ready to welcome it together as well. Seriously. If your partner has paternal leave, vacation time or sick time, ask him to stay home with you. When we hit the end of two weeks, Rob took off work to help me refocus and get things moving.
6. RELAX. Let your partner pamper you. Rob gave me a great massage that helped me relax and concentrate on the task at hand.
7. HAVE SEX. Boom, chicka, boom, boom, boom… Envision it. Yeah, that's right. Pregnant women are sexy.
Seriously. I know, I know – some of you are thinking, "Really? I'm SO not in the mood" but – this works. Sperm is excellent for ripening the cervix. I could try to explain the science behind it but you can google it. And, don't just have sex and get up to go to the bathroom like you usually would.
Have sex, then put your butt on a pillow and take a nap. Let that sperm hang out in there.
Your husband is cheering as you read this tip. Give the poor guy a break. Think of it as a last hurrah, something for him to hold on to in the sleepless, sexless nights to come while you're recovering from birth. .

**A friend recently asked if having a vasectomy will lesson the effectiveness of this step. The answer is – YES! A vasectomy blocks sperm from escaping. That's how it prevents pregnancy. So, while you might get some contractions from the exercise and orgasms, there won't be any sperm to soften the cervix. Do it anyway. It's a great stress reliever!
8. PRAY and ask your friends to do the same. I sent out a request for prayer the day we stayed home to implement our "Get Giant baby out!" campaign and hundreds of my friends did just that. If you don't believe in prayer, you can obviously skip it. But for me, knowing that friends who love me were thinking of me and were with me in spirit in that moment was a huge, huge encouragement.
9. – Think OPEN thoughts and take care of yourself. Imagine your pelvic floor as a wide open space to let that baby out.
10. *Castor oil. If you need to, down that castor oil. Talk to your doc or midwife about it. All the Mamas I know who've used it drank the full 4 oz dose to get things moving. Also, once you've done it, you can't drink it again for several weeks. It's kind of a last resort.
11. Use Herbs. I am not an herbalist so I would only do this if I'd consulted with my herbalist based on how far along I was. Find a qualified herbalist before taking anything while pregnant!
Think about your baby. Smile. Breathe deeply. TALK to that kid. YOU are the mama and you DO have influence over this experience.
I know we all have a plan for how we hope, expect, dream our baby will arrive. But in the end, if things don't go as planned, be open to whatever is best for your family. Don't linger on feeling guilty or disappointed if it doesn't go exactly as you hoped. Just hold that sweet, squishy little baby and enjoy every minute.
*As always, I'll remind you that I am not a doctor.  These are common sense choices I have made for myself. I have taken the time to research any health decisions I make and have consulted with my local herbalist and midwife. I encourage you to always do the same before choosing to take or administer any kind of remedy, whether herbal, prescription or off the shelf at a local drugstore.**