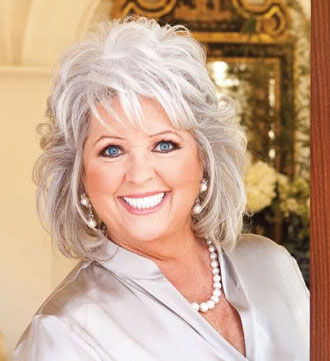 This weekend, we were all bombarded with reports of  racist comments made by Paula Deen, the Food Network's former Queen of Southern cookin'.
She and her brother are being sued for sexual harassment and racial discrimination. According to Deen's deposition, she used the "N" word (long ago) and expressed the desire to throw a plantation wedding reception served by "middle-aged black men" wearing "beautiful white jackets with a black bow tie" to mirror a by-gone era in the South. I bet her lawyers were sweating while she answered the questions. She did not do herself any favors.
People who hold racist ideas or use racist language don't necessarily have neo Nazi tats, shaved heads or sport giant Confederate flags on their pickup trucks.
Racists can dress modestly, own successful businesses, go to church and believe they have good intentions toward the neighbors, even the ones they just insulted with the "N" word. They might be relatives, friends or even *GULP*, us.
Unfortunately, racist ideas are still deeply imbedded in our culture and often unrecognized by those who hold them.
Racial discrimination is not a problem whose time has passed in America. In many ways, its influence is more insidious than in times past when racial discrimination was legal.
In fact, I hear racist comments all the time from people who don't even seem to notice that they've made them. So, I'm compiling a few for you today with the hope that this post will cause us all to examine our words and our attitudes as they relate to the equality of ALL people. 
These are some comments I have heard only recently. I've included a tutorial to explain why the statements are racist for those of you who don't understand why it's not ok to say things like this. 
You might be racist if you say…
****************************
"He was a black man but he was very intelligent (or) kind (or) good looking." 
I've heard all of these in their various forms. The problem in this statement is in the "but". To describe someone by their color and add that "but they're still ok" infers that you somehow think they are usually inferior in these areas solely based on their color.
A better compliment?
"He is a very intelligent/kind/good looking man." Just skip the race observation, 'kay?
****************************
"She is black and from the South. I don't know if this has anything to do with her not performing well at her job."
See #1. If you have a problem with someone's job performance, address it apart from race.
****************************
"They are such a friendly/generous people."
"They may be poor but they're so much more content than we are."
or
"I love 'the people' of Mexico"
(or Africa, or any country where the majority are not the same color as you).
Really? ALL The people of Mexico? Stereotyping an entire group of people – even with attributes generally considered positive, belittles the complexity of who they are as individuals and reduces them to simplistic, almost "friendly pet" status. In every people group, there are the good, the bad and the indifferent. Don't lump people together based on their color. That's like saying all Asians are great pianists. Yup. That is racism.
****************************
"There are a lot of drunk Indians living in that area. You know they can't hold their liquor."
Yes. Someone actually said this to me lately. I almost fell over in shock. Are we living in the Old West? Who still thinks this?
****************************
This weekend, a friend shared a comment she overheard while working as a makeup artist,
"Your makeup looks really good! No offense, but most Native Americans I see don't do much to fix themselves up."  
My response to this besides open-mouthed shock? If you need to say, "No offense" at the start of your comment, it's probably wise not to finish it.
****************************
All of these kinds of comments are born out of an outdated, never true, pseudo-scientific belief that a person of color is somehow intellectually, morally and socially inferior to the person making the statement.
Note the use of the word "pseudo". Meaning, there is no basis in fact for this belief!! Ideas like this motivated our forefathers to enslave people based on their color, to push Mexicans and Indians off their land and imprison Japanese in containment camps during World War 2. Those are just a few shameful examples of the racism that has tainted our history.
From the perspective of a person of faith, I don't want to be guilty of treating people in any way other than the one Jesus defined for us – with love. In Luke 10, He identified the two greatest commandments  – "Love the Lord your God with all your heart, soul and mind and your neighbor as yourself. I encourage you to take a minute and read the story. As I read it, I asked myself, "How can I say I follow Jesus teachings and example if I think I am better than another person?"
A final note on Ms. Deen…
She did take the time to make videos apologizing for her comments to her family, her customers and her many fans. I truly hope she is sincere. But her story is a reminder to us that we all have the opportunity to face, sometimes painful, moments of truth about ourselves. We can either dig in our heels and insist we are right or we can humbly choose to learn a lesson that help us grown into a better version of ourselves. It's possible that this will be one of those moments for Ms. Deen. It certainly is for me and I hope it is for you too.
Like this? Take a moment to share it and sign up for the newsletter.
YTo4OntzOjk6IndpZGdldF9pZCI7czoyMDoid3lzaWphLW5sLTEzNzIxMDQyNjUiO3M6NToibGlzdHMiO2E6MTp7aTowO3M6MToiMSI7fXM6MTA6Imxpc3RzX25hbWUiO2E6MTp7aToxO3M6MTM6Ik15IGZpcnN0IGxpc3QiO31zOjEyOiJhdXRvcmVnaXN0ZXIiO3M6MTc6Im5vdF9hdXRvX3JlZ2lzdGVyIjtzOjEyOiJsYWJlbHN3aXRoaW4iO3M6MTM6ImxhYmVsc193aXRoaW4iO3M6Njoic3VibWl0IjtzOjEwOiJTdWJzY3JpYmUhIjtzOjc6InN1Y2Nlc3MiO3M6NTA6IkNoZWNrIHlvdXIgaW5ib3ggbm93IHRvIGNvbmZpcm0geW91ciBzdWJzY3JpcHRpb24uIjtzOjEyOiJjdXN0b21maWVsZHMiO2E6MTp7czo1OiJlbWFpbCI7YToxOntzOjU6ImxhYmVsIjtzOjU6IkVtYWlsIjt9fX0=
It's hard to love others if you don't love yourself first. Take a moment to read a lesson in self love.