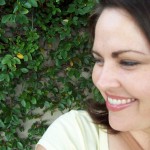 It's been a while since I wrote here at OM Cafe – for good reason. A while back, we FINALLY welcomed our long expected small one into our family. He was a teensy bit late in coming – at 42.5 weeks! Consequently, he was a tad larger than my previous babies who were not so dainty themselves at 9lbs 7oz and 8lbs 4oz. After significant effort, he finally emerged from his warm, cozy mama cocoon at a whopping 11lbs 8 oz!!! He came out the natural way at home with our midwife. But it's taken me a little longer to recover from this delivery.
So, how does a girl recover from pushing out close to 12 lbs of baby?
Well…
The phrase that I am clinging to like a mantra is one all new or new *again* mamas should learn.
Are you ready?
These are brilliant words of wisdom!
Here they are –
"Let it GO…"
Wonder how good I am at this? Ask any of my close friends how good I am about being at peace with…
toy grenade explosions all over the floor
un-washed dishes
an unmade bed
a disorganized fridge (at least not organized how I normally do it!)
and my pet peeve…un-scrubbed tile (it's swept but not sanitized)
I'll give you a hint…
I SUCK at it!!! (Don't laugh, L!)
The thing is, if I let myself focus on all those urgent, but ultimately unimportant, things right now I'll miss out on what I and my family need most, like…
rest
peace
a little exercise
most important – getting along with my amazing husband & bonding with my baby (nursing or holding him when he needs me) and my older kids (i.e. not freaking out about stupid stuff and letting them know THEY are more important than whether the house is perfect.)
But, I'm getting better at
accepting help (meals, cleaning assistance from my mother-in-law)
learning to be kind when things aren't done my way (I know, should have learned this a long time ago)
being grateful for the sweet husband who goes beyond all normal limits to keep things running around here when I'm with the baby
enjoying the voices of my sweet little children who are responsible for the daily toy explosion
knowing my limits (limited outings, a low key schedule and not cleaning like a fiend or trying to cook elaborate meals while holding a baby)
Thankfully, I have wise people in my life to remind me about it when they drop by to offer a meal and I start to apologize for the mess. Like our friend Jason who popped in last night and said, "There are plenty of other things to stress about without worrying about that stuff."
See what I mean? Wise. 😉
As a friend used to say, "This too shall pass." She meant the difficulties of small children – toys explosions, sibling rivalry, last minute diaper bombs that make us late and laundry that never ends. But, along with those things, those little moments of joy also pass – the soft, squishy baby cheeks, the accomplishments of each child that assure us of their miniature brilliance, sweet, small voices squealing in delight, the sound of their small feet thundering across their bedroom as they throw themselves fully into their game.
I don't want to miss it. So, for now, I'm going to take the slow path to re-entering my normal activities so I can enjoy every happy moment, along with the frustrating ones. There is no race to the finish, no goal to accomplish at the end here. These precious moments are my life. It's the life I dreamed of and it's the life I'm going to enjoy – right now.
What are you learning to let go of?
Blessings ~
OM
For more on life after babies, check out this link. First Time Mamas: Surviving Your New Role