I HATE summer TV. It's so boring. I despise reality TV so I'm hurting for a good show in the summer. It's hot, grumpy weather so I'm looking for lighthearted, enjoyable entertainment. While my husband and friends catch up on missed epis of Downtown Abbey (snore…), I prefer mystery (detective shows), especially if they're funny.
This summer, I found the perfect, nostalgic show on Netflix streaming.
The character driven, humorous drama-dy (drama-comedy, get it?) set in the late 70's, early '80's possesses a timeless appeal thanks to good writing and great chemistry amongst cast members. And, of course, it's written and produced by Donald Bellisario, a name you'll find associated with other popular shows like Blacksheep Squadron, JAG and current hit NCIS.
If you're a friend, you already know the show because I've been peppering you with trivia about it lately. When I mentioned it to a friend the other day, she laughed and said, "Ew, he (the main character) always wore such short shorts!" While I question the validity of my friendship with someone who doesn't find the man in the short shorts attractive, that's not the only reason I love watching.
Have you figured it out yet?
It's one of the best shows ever aired on network TV.
Magnum P.I., baby. That's right. Pure awesome-ness.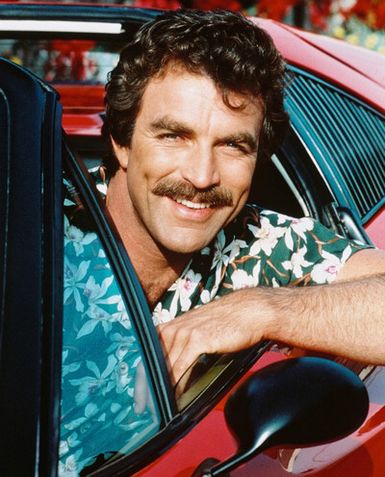 Clearly I've spent way too much time watching this show. Heehee.
For proof, see observations AND trivia below.
1. Best theme song ever. It's not the original used in the pilot and the first few episodes. It's better. And, it's a full minute long. So cool.
2. Breaking the Fourth Wall – Magnum's looks at the audience in humorous moments. Not taking itself too seriously = Success.
3. Magnum's.amazing.curly.hair.
4. Life in paradise. Mansion guest house, rad Ferrari, breathtaking surroundings. If you can't go to Paradise, watch it.
5. The Ferrari . I.LOVE.THIS.CAR!!!!! How many times did he wreck that car anyway? For trivia freaks, he apparently drove two models – a 1978 308 GTS carbureted model and a 1983 308 GTSi QV. I stole that info off the web somewhere. Vrroomm!
5. Magnum's 9 Lives – For a former special forces dude, Magnum's pretty clutzy. It's endearing. Nonetheless, he has a catlike ability to escape disaster.
6. Higgins, or as TC refers to him, Higgy-baby. I LOVE the dro-ll majordomo. He + Magnum = best frenemies ever. Even when they prove their friendship in dramatic, life saving episodes, they manage to return to their funny-antagonistic relationship very quickly. p.s. John Hillerman (Higgin's real name) isn't British at all. He was born in Texas. Yee-Haw!
7. TC and Rick. Brothers from another mother. They survived Vietnam together & T.C., Rick and Magnum have each other's backs. Without Rick's Chicago mob ties, TC's helicopter & their willingness to jump into his cases Magnum's success rate as a P.I. would not be nearly so high.
8. Magnum's self-deprecating manner. Apparently Selleck's character was originally written to be a lot more macho. He wasn't yet a star but he lobbied for a less "superhero" character. Result? The funny, often-gets-his-butt-kicked, integrity filled Magnum we love today. Well, I love him anyway.
9. The way Magnum holds his gun. Like it's a toy. I guess when you're 6'3″ most handguns seem small enough to be toys. It always looks like a water pistol to me.
10. The short shorts. Come on people. You didn't think I was gonna ignore those, did ya? Somehow he carries it off. TC and Rick's unbuttoned shirts make this list too. Was this really the style??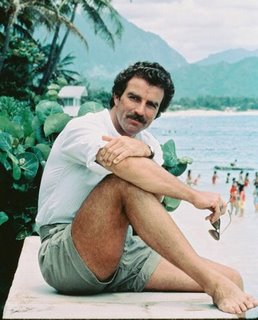 Gotta say, beyond my top ten shallow reasons for watching Magnum P.I., I love the moral character aspect of this show. The main characters are men of integrity. They are honorable, loyal to friends & determined to stand up for justice. We could all use friends like these guys.
Plus, they seem like they'd be fun people to hang with, don't they?
Summer's almost coming to a close – so some of my 'real' shows will be airing again soon. But until then, I'll be kickin' back with Maganum (DGirl's name for him) and his friends as they clear Hawaii of the bad guys.