Sometimes the parents at this house just need a break from cooking breakfast for our kids on Saturday morning. I want a break because I feel like I am carrying a huge bowling ball, strike that, a sand-filled yoga ball on my frontside. Robert needs a break because he's been doing all the jobs I usually do but can't because I am too huge right now to do them. So, how cool is it that the past two weekends we discovered we had gift cards (woohoo!) to two great local Central Phoenix restaurants, Windsor and St. Francis? We decided to use the cards for Saturday brunch with the kids.
We started with Windsor last weekend and followed with St. Francis today. I confess, last weekend, I fell down on the job with photos so I didn't get pics of our Windsor breakfast. However, the menu items we chose were almost the same so pics from St. Francis will have to suffice today.
First of all, both Windsor and St. Francis try to make their menu kid friendly in the brunch hour and both succeed pretty well. Here's what we ate.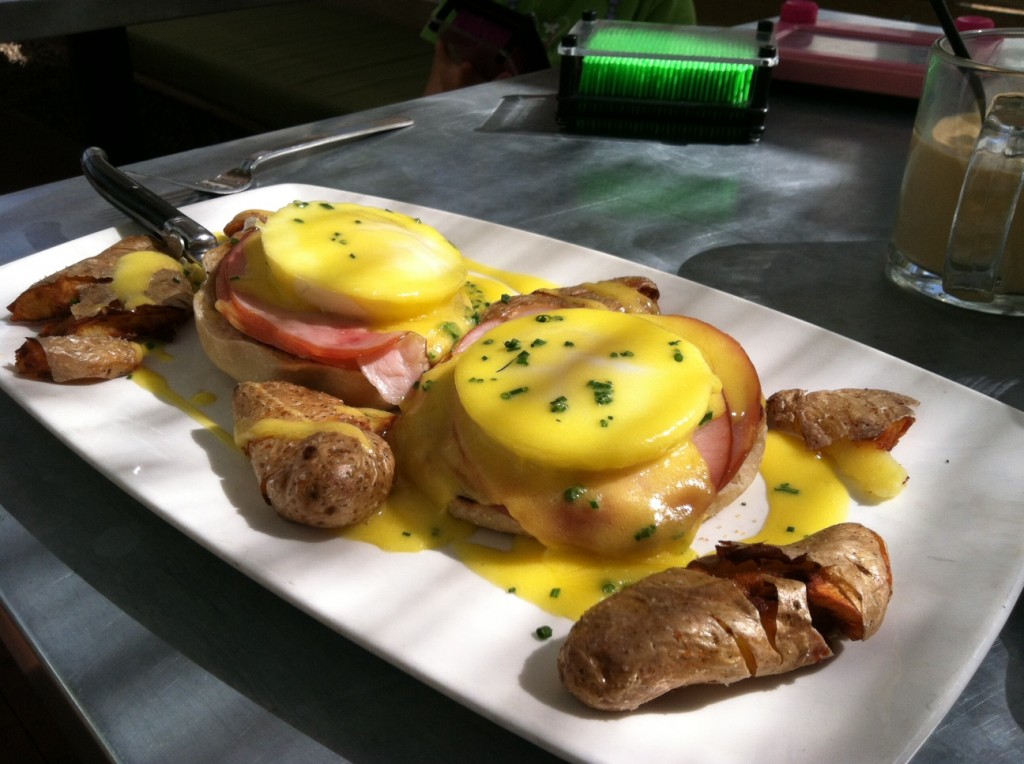 Robert's Eggs Benedict at St. Francis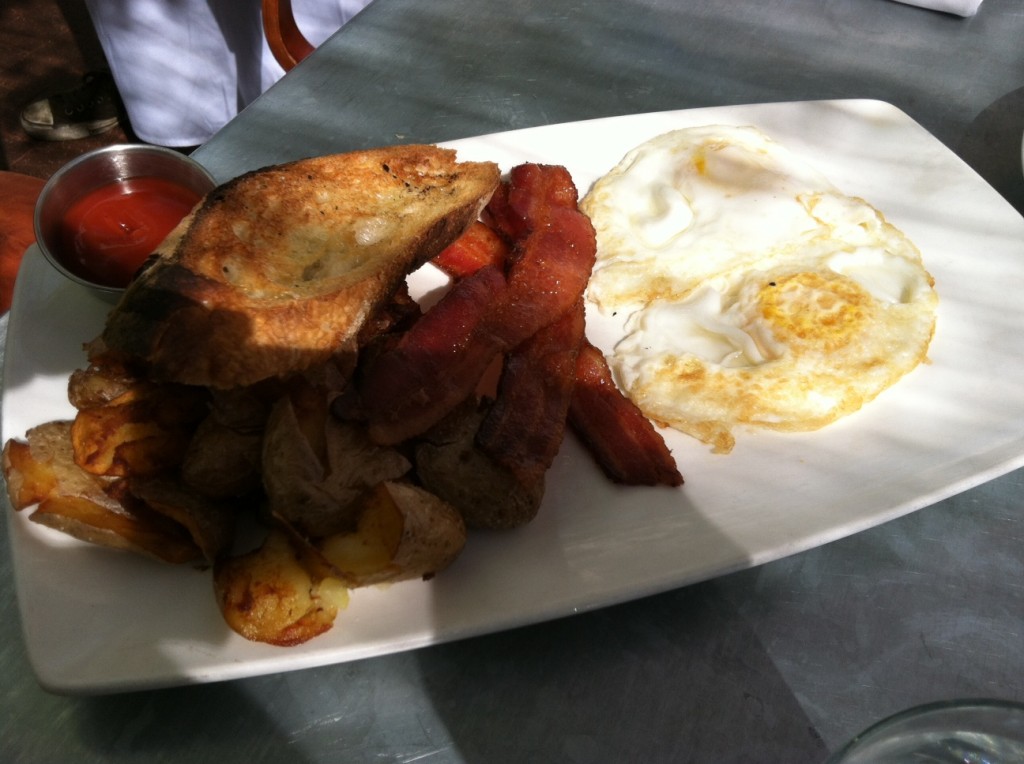 My "American Style" breakfast at St. Francis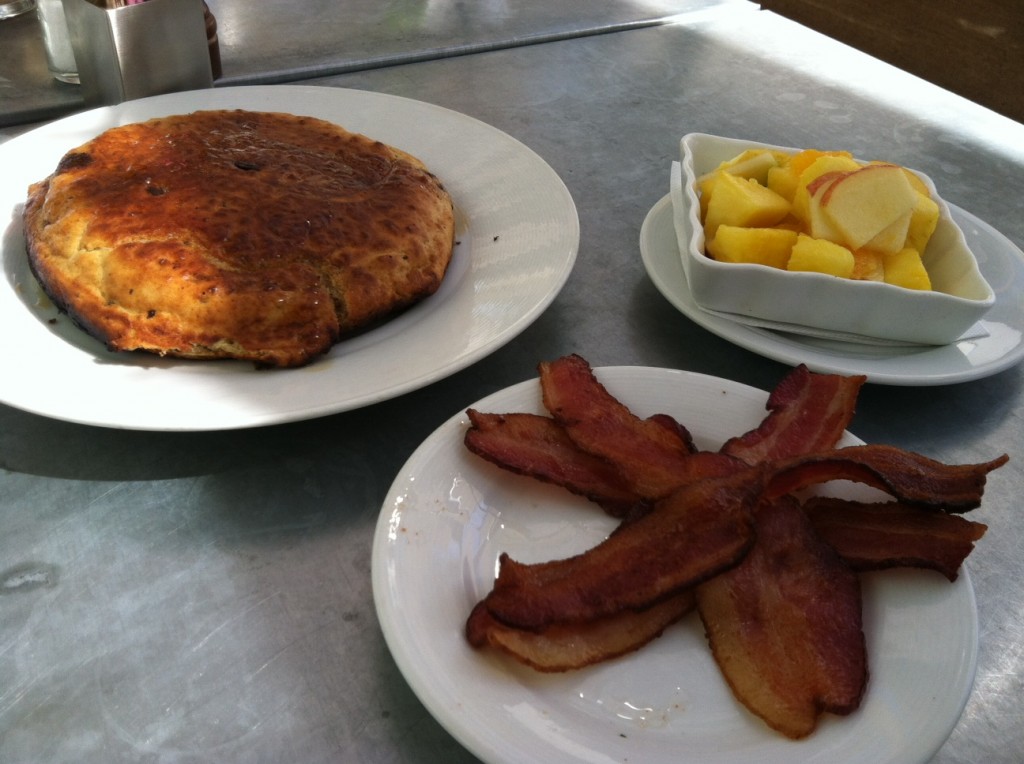 The kids' gigantic pancake at St. Francis.
So, here's a breakdown of the two restaurants.
Service: Both St. Francis and Windsor's staffs are always very friendly and attentive. If your glass is empty, it won't be for long. I'm always impressed that both of these establishments manage to hire people with great service oriented attitudes. They are also very kind to the kids when we bring them and take the time to address them directly. We were seated immediately at both restaurants but both took about 15 minutes to serve food. St. Francis offers a toybox for waiting kids while Windsor provides crayons and paper.
Atmosphere: Both St. Francis and Windsor have outdoor and indoor seating. By the time we arrived at Windsor last weekend, it was hopping so we sat inside in a booth. Patrons are friendly and excited about their food and usually talking animatedly so it's a little more like eating in your favorite upscale pub. Fun energy, great for people watching (unless you're watching your own kids!).
St. Francis has great architectural lines inside and a beautiful patio outside. The way seating is set up lends itself to a little quieter, more grown up dining experience.
Food: St. Francis and Windsor offer some similar breakfasts like pancakes, biscuits and gravy and Eggs Benedict but they are different.
St. Francis offers more options that you might want to enjoy with a cup of coffee, like scones, breads and cinnamon rolls. I was VERY tempted to get the cinnamon roll with caramel sauce. Sadly, the giant baby sharing my belly space right now didn't even allow me room to finish my breakfast. So, next time! While St. Francis only lists Mimosas and Bloody Mary's on their menu, I heard another patron getting the rundown on other spirited drink options.
Windsor offers a big plate of fresh donut holes that the kids loved and a bowl of quinoa and steel cut oatmeal with brown sugar, nuts, dried fruit & vanilla mascarpone that sounds enticing. Also, for those who like a little spirit with their meals (hey, it's ALMOST noon at brunch time!), they offer a full selection of delicious sounding cocktails with ingredients like organic peaches, blackberries, cucumber and grapefruit – though not in the same drink. Also available? Their well-known $5 beer pitchers like Dales Pale ale and great local beer, Four Peaks' Kiltlifter.
The kids liked Windsor better. While it might have had to do with their getting a little plate of hot, fresh donut holes with jelly and creme (so good!) after their breakfast, they said they liked Windsor's pancakes better. The pancake at St. Francis is giant and filled with chocolate chips but doesn't have much syrup on it. When we asked for more, our server returned with what appeared to be a thimble sized container of more. What can I say? Our kids like to see the syrup on their plate!
Prices: Though St. Francis offers "free" brunch for the kids, their prices are higher in general. We ordered more food at Windsor and paid less for our meal. Definitely something you notice when you're eating out with kids. If there was any difference in quality, it was not noticeable. Also, I noticed drink prices at Windsor are about $4 less per drink than St. Francis.
However, both are great local restaurants that I recommend highly. If you're going out for brunch this weekend, skip the chain restaurants and go support one of these terrific local spots!
Parking: Both restaurants use valet so plan for that though you might be able to park your own car at St. Francis if you get there right as they open.
Hours and information:
Windsor's brunch is 9am-1pm Saturday and Sunday. Windsor's website.
St. Francis' website says they serve brunch on Sunday from 10:30 am -1:30 pm but they serve brunch on Saturday too. Info at  St. Francis website.