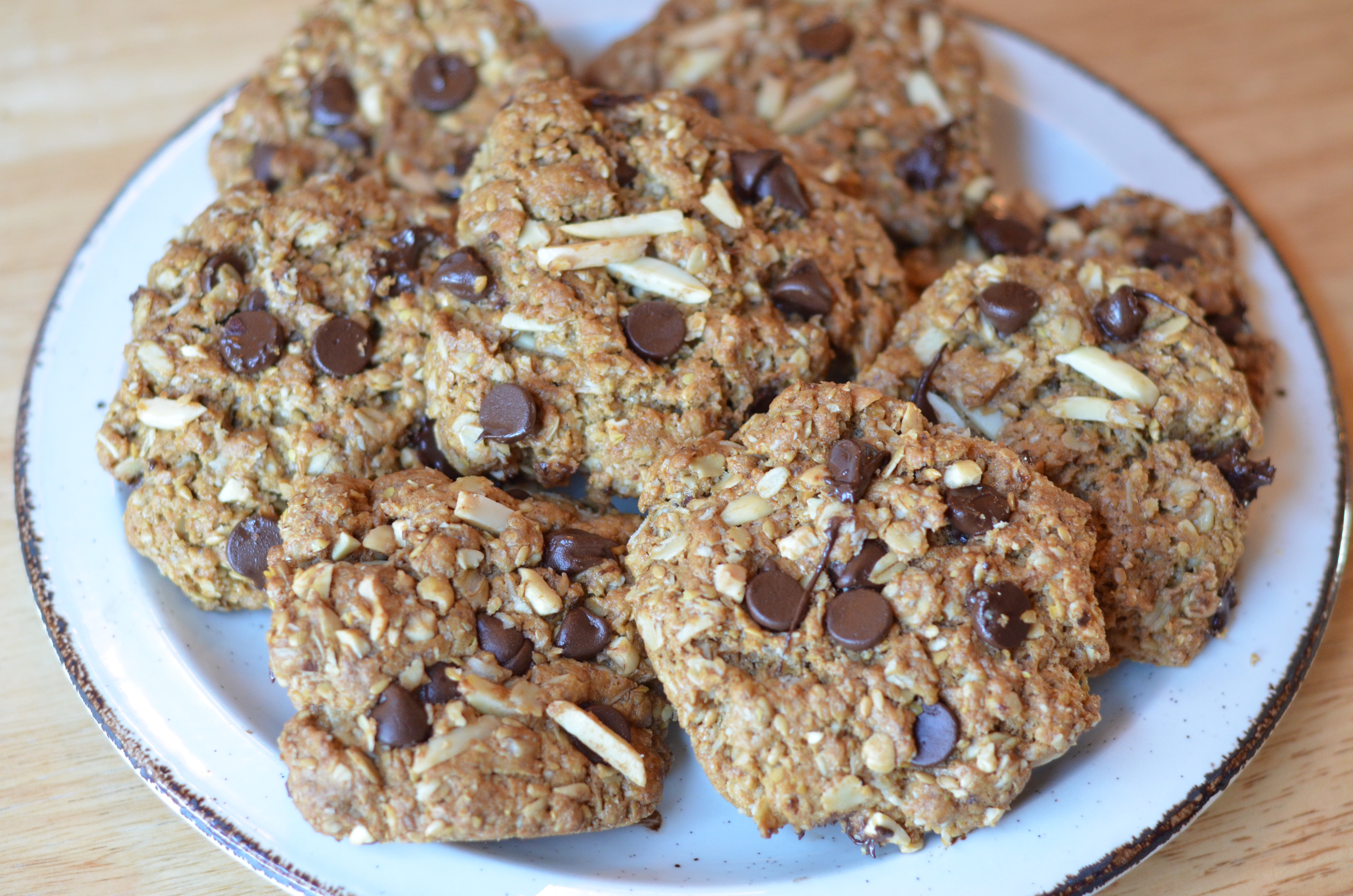 Do giant chocolate chip oatmeal cookies studded with almond slivers sound like  the perfect snack today? You're in luck.
If it seems like a lot of my posts are recipes lately, it's probably because they are. I'm settling into life since adding Giant Baby to our family and I'm working hard to keep up with his milk needs.
Unfortunately, like my other two kids, he's had pretty significant latch issues, including a high narrow palate and a severe upper frenulum tie. So, I'm pumping again this time to keep my supply up. Still, I'm pretty happy about the fact that he nurses at all since I didn't get to nurse my other two babies.
Whether you're nursing "Giant Baby" like I am (he's 19 pounds and just turned 3 months today!) or nursing a normal sized kid, there are days when you might need a little boost in supply. As a mom who's struggled to keep up my supply with latch-challenged kids, I have a laundry list of lactogenic foods, drinks and herbal galactagogues that can help.
Here's one of the more fun ones!
I'd run across several lactation cookie recipes, including one that contained kale and carrots. The ingredients that are standard in all of them are nut butter (protein), oats (milk booster!) flax seed and brewer's yeast. I added slivered almonds because these also contain lactogenic properties. Plus, they're delicious and healthy.
Just a note about brewer's yeast. I've heard it lauded from time to time as a milk-booster but in three babies, I've never tried it till now. Boy, I wish I'd found it sooner! It definitely boosted my supply. I don't know if it's the B-complex vitamins or what but it works.
Some people suggest drinking Brewer's Yeast in water but I found that caused some stomach issues for me. Eating it in a baked good with flax seed meal seems to be even more effective and there are no unpleasant side effects.
The great thing about this recipe is that it contains no flour and includes more oatmeal than most recipes. It's modeled after the Monster Cookie recipe my mom used to make for us as kids, though it only has 3 1/2 c. of oats instead of the 6 that her recipe used. I only had dark chocolate chips on hand but if you have butterscotch chips or some other favorite candy, you can use it too.
Even if you're not nursing a new little one, these cookies are absolutely delicious.
Wet ingredients
1/2 c. butter (softened)
**16 oz REAL peanut butter – as in smooshed peanuts, not Jiffy or Skippy or any of that high fructose corn syrup enhanced stuff. (that's how big my jar was but 14 oz would be ok too)
1 1/2 c. brown sugar
3 eggs
1 T. real Maple syrup (optional)
2 t. vanilla
Dry ingredients
1/2 t. salt maybe 1/4 if you're using really salty butter
3 T. Brewer's yeast
1 c. flax seed meal (Grind the flax seeds in a coffee grinder for freshest taste.)
3 1/2 c. oats
2 t. baking soda
1 c. dark chocolate chips (or toffee, butterscotch etc.)
1 c. almond slivers
Preheat oven to 350º F
1. Stir together butter, peanut butter and brown sugar till thoroughly mixed.
2. Add eggs and beat till mixed.
3. Stir in vanilla and maple syrup.
4. Add dry ingredients and mix thoroughly. Nothing like biting into a pocket of baking soda. Yuck!
5. Use an ice cream scoop to shape cookies. Press flat on cookie sheet before baking. They are kind of sticky and a little hard to shape but press on. It is worth it.
6. Bake 17 minutes. The cookies should be chewy and soft, not crunchy. Your oven might be a little more or less so keep an eye on them.
7. Pour yourself a glass of milk and nosh.
Yum.
**You can substitute almond butter for the peanut butter.
Like this? Try my Zucchini Coconut Bread.
As with all my posts…If you like it, spread the sweetness! Tweet, Facebook or email to anyone who might benefit from it. 🙂
Remember to take care of yourself mama!